Voted the #1 Training Program in the nation by "Men's Health Magazine", Shula's Athletic Club is proud to offer Thrive Functional Training.
Thrive Functional Training is a cutting-edge fitness program that provides customized programs and personal coaching for every single member in a fun and dynamic group environment. Thrive understands knowledge is power, but we believe that precise action with the latest and most up-to-date methods of improving your health is what will allow you to experience health, vitality, and most importantly that incredible look that goes along with it.Thrive's functional training system was created by world-renowned strength coach Mike Boyle, who trained the 2013 World Series Champion Boston Red Sox and the 2014 Silver-Medal Winning U.S. Women's Hockey Team, as well as hundreds of NFL, NBA, and NHL athletes.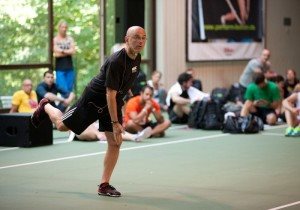 Your program will have five components:
1) Prime: This is the first step in every THRIVE workout. It has a dual purpose of preparing both your body and mind for your workout. Prime gives you a quick moment to de-stress, unwind, and socialize with the group and the coach. The focus is on reducing the density of restrictive tissue, increasing flexibility, and learning to control specific muscles that help improve functionality.
2) Prep: The next step in the THRIVE workout is Prep, which is your warm-up. While stimulating your central nervous system and getting your blood flowing, your program will also target certain less-than-perfect movement patterns and implement a re-conditioning strategy in a fun way.
3) Power: You need power to improve your performance, whether you're an Olympic athlete or just an average person trying to keep with your kids. Increasing power through safe and responsible exercises is the name of the game. Clients tell us that this portion of the workout is often both the most challenging and the most fun.
4) Strength: THRIVE workouts focus on four key movements and areas of getting stronger: pushing, pulling, lower body, and core. Your THRIVE program will be custom built for your capabilities. This approach will allow you to look, feel, and perform better.
5) Burn: To incinerate stubborn belly fat, the cardio portion of your workout will be fast, but intense. Our Burn section will melt fat in a short period of time while improving your cardiovascular fitness.
But, is this program just for the elite? No, and that's the best part! While every THRIVE fitness program employs the very same principles that Boyle uses to train world-class athletes, it's 100 percent personalized for any age, fitness level, or goal. Every coach at Shula's has undergone intensive education and testing to complete a THRIVE certification program created by co-founder Mike Boyle.
Without any obligation you can receive a free assessment from a THRIVE trainer. This will allow the THRIVE staff to determine your strengths and weaknesses in order to create the best program for your body. It's time to revolutionize your workout program! Get your FREE assessment now, call our front-desk (305.820.8025) and schedule your appointment!
Posted in Workout Tips Tagged mike boyle, thrive functional training, training programs